Through the generous support of the Mellon Foundation, SSRC launched the Research AMP Partner Sites project, a year-long partnership with four research groups to help them develop critical infrastructure for sharing their research using the SSRC's Research AMP platform. These platform sites are currently in development: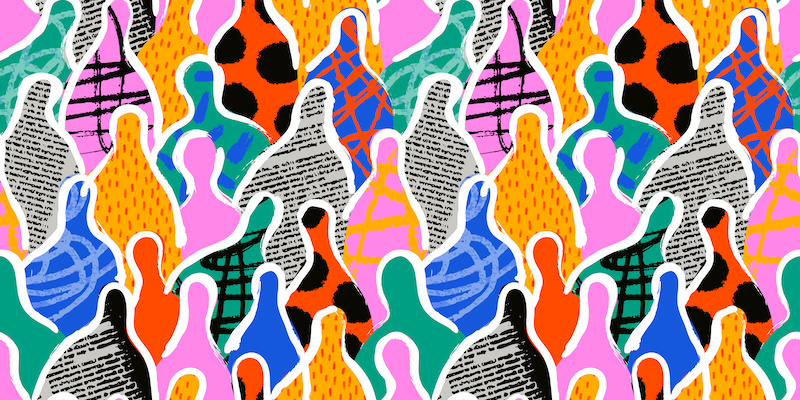 Cultural Constructions of Race and Racism Research Collective
Rayya El Zein (PI), Chris Alen Sula, Cultural Studies Association
We are a global network of media makers, scholars, and activists working to help our communities identify and dismantle colorism and anti-Black racism. We turn to local and regional media and popular culture as both archive and tool—an archive in which to trace culturally specific histories of representation; and a tool with which to raise awareness, mobilize, and inform. We prioritize perspectives grounded in local languages that are familiar with regional understandings of ethnicity, sect, religion, gender, and class—as well as race.
CcRrrC hosts these perspectives in a transnational, comparative frame. We do so because we understand that white supremacy is a global phenomenon that is manifest in specific vernaculars. Our work looks to support and sharpen tools available to communities as they combat colorism and anti-Black racism.
The CcRrrC is an initiative developed by the editorial team at Lateral, the open-access, peer-reviewed journal and digital production site of the Cultural Studies Association. Lateral invests in experimentation and collaboration among cultural studies researchers and practitioners and is committed to disrupting entrenched racial, gendered, abled, and classed hierarchies in scholarship. The CcRrrC platform is developed as part of Lateral's editorial mission to design and execute initiatives that amplify marginalized voices and offer non-traditional paths to publication.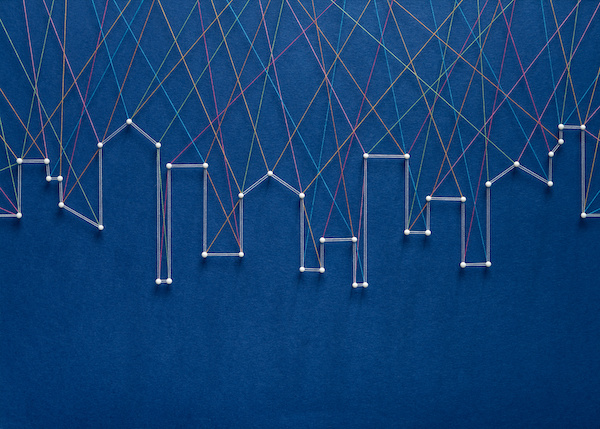 The Common Denominator
Amy O'Hara (PI), Margaret Haughney, Max Brossy, Georgetown University
From public health to public safety, children to elders, and urban to rural, population data form the "common denominator." They are essential for epidemiological measures, risk ratios, and funding formulas and eligibility criteria for loans and programs. The users of population data need to understand its origins, production, and trends over time. The Common Denominator shares expert perspectives on census data and connects academic and industry experts. Our site shares information about uses of existing and novel data sources, generating awareness and discussion of methods to better measure our diverse population. Our site contains links to peer-reviewed and gray literature, popular press publications, news articles, expert commentary, and interviews that span topics in population measurement and demographics.The Common Denominator stimulates interdisciplinary collaboration, drawing diverse groups together around themes like the privacy-accuracy tradeoff and need for disaggregate data.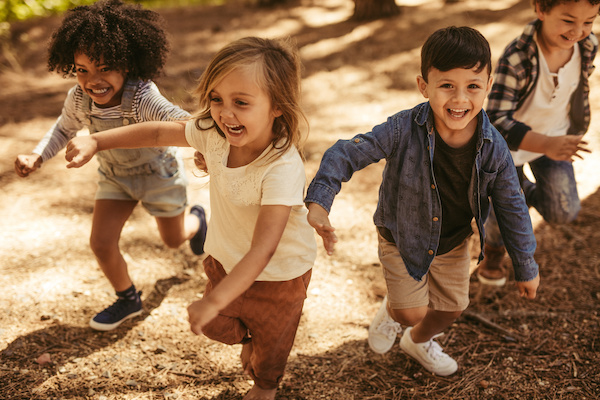 Play and Wellbeing
Lalitha Vasudevan (PI), Joe Riina-Ferrie (Co-PI), Haeny Yoon (Co-PI), Nathan Holbert (Co-PI), Christian Wu, Catherine Cheng-Stahl, Olu Animashaun, Teachers College at Columbia University
Children's wellbeing is intimately linked with play—space to imagine and dream, revel in fantasy, manipulate materials, and explore. Children's wellbeing serves as a canary in the coalmine for the wellbeing of the adults and affiliated social institutions in their lives: educators in schools, caregivers, social workers, and child welfare systems. Our Research AMP site will expand the public and scholarly imagination about play beyond children's play to include wellbeing and to challenge normative expectations for play in our academic work and lives. We plan to aggregate research and expository accounts that live at the intersection of play and wellbeing and reflect a commitment to 'narrative plenitude' in both form and content. By curating multimedia digital content like the Pop and Play podcast alongside more traditional forms of research outputs and news articles, our Play and Wellbeing theme is more likely to reach a wider audience that includes key individuals who make decisions about play in the lives of young people.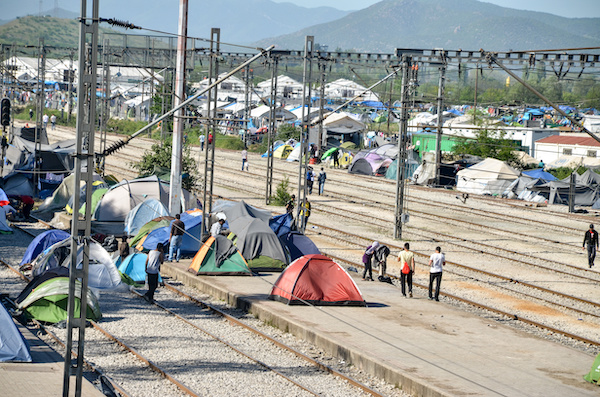 The Three R's – Refugees, Rights, and Resettlement
Mansha Mirza (PI), Yolanda Suarez-Balcazar (Co-PI), Amelia Brunskill, University of Illinois Chicago
One in every 95 people have fled their homes due to persecution or violence. Displaced persons include refugees, asylum seekers, and internally displaced persons. Refugees who manage to safely flee their country of origin seek stability in safe countries through the process of resettlement. With human displacement at a record high, public curiosity about refugees, their journeys(s), and how they can be best supported continues to grow. The Three R's is an online community of academic experts, researchers, and civil society representatives located in North America and Western Europe. Our shared mission is to produce and compile information on the psychosocial and community participation needs of refugees during and after resettlement. Our goal is for The Three R's platform to become the go-to repository of credible and reliable information on this topic. The Three R's is also a networking platform where professionals, academics, community organizations, activists, and policy makers come together to create, share, and disseminate informational resources on a variety of issues related to refugee resettlement.
Current SSRC Research AMP Projects:
SSRC Research AMP projects in development: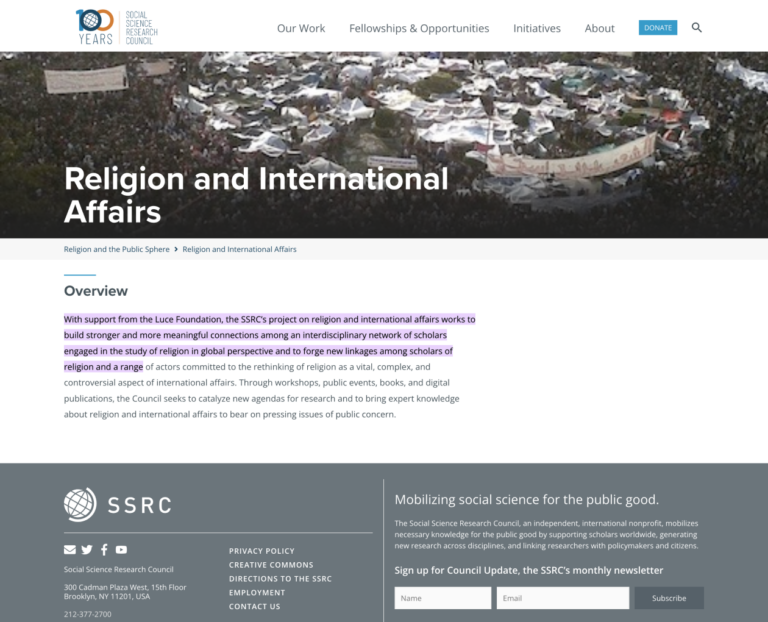 Religion and International Affairs
The platform for religion in international affairs will serve as a resource and nexus for scholars, journalists, the public, and practitioners of the field alike. A searchable repository will allow users access to scholarly and policy-related outputs from the approximately 200 grants made by the Henry R. Luce Initiative (HRLI) on Religion in International Affairs, opening the door to resources ranging from publications to videos to conference sites. Additional updates will populate the repository with works that build on the legacy of this important initiative. Outputs will be organized into various research themes, the platform launching with three: Global Nationalisms, Climate Futures, and Digital Religion. Within each theme, the platform will support the writing of original pieces by reputed scholars in the field commenting on the state of it through the lens of the writers' own work. As a home of both HRLI outputs and original writings, there will also be ample opportunity to support, engage, and highlight the work of early-career scholars. The interactive and collaborative nature of the platform, with the fruits of research at the center, will provide a space for scholarly growth and setting agendas in the field of religion and international affairs.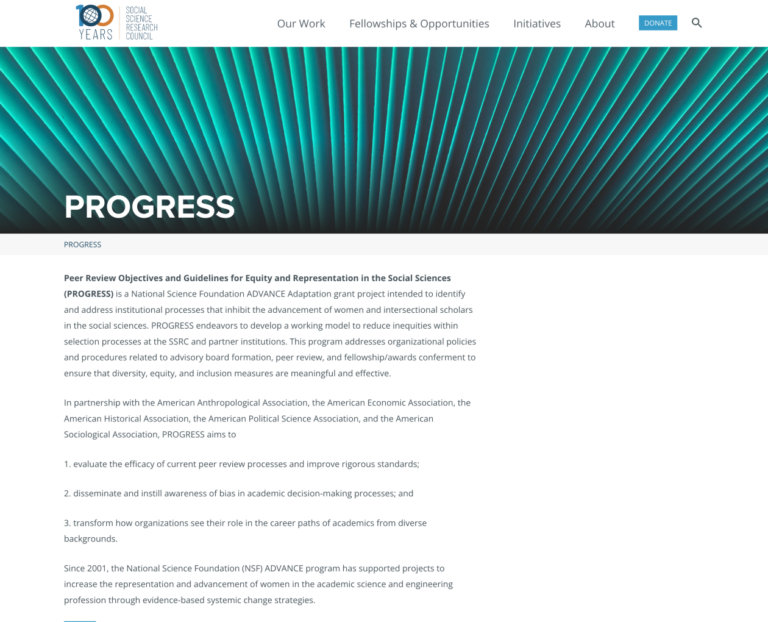 PROGRESS
Peer Review Objectives and Guidelines for Equity and Representation in the Social Sciences (PROGRESS) seeks to identify and address institutional processes that inhibit the advancement of women and intersectional scholars in the social sciences. PROGRESS endeavors to develop a working model to reduce inequities within selection processes and structural barriers for women and intersectional scholars at the SSRC and five academic disciplinary association partners. PROGRESS is housed within the Council and supported by the National Science Foundation ADVANCE Adaptation program.
The PROGRESS RAMP serves as a curated, interactive library for scholarship, news, and other resources related to diversity, equity, and inclusion for social science academic faculty. Research areas include policy and practice, organizational culture, climate, implicit bias, fellowship/awards conferment, and more. The primary goal of this project is to make evidence-supported information on effective DEI practices more easily accessible to social scientists.
Interested in utilizing Research AMP for your project?
A public release of the Research AMP suite is forthcoming. Watch this
space or sign up to be the first to know.